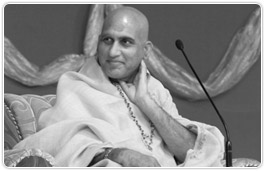 THE MAN AND THE MISSION
SWAMI AVDHESHANAND GIRI MAHARAJ is a blessed name among truth seekers synonymous with spiritual heights.Those who are desirous of God's grace find this name the right ladder to God-realisation. It betokens self awareness and continuous celebration of the Supreme Bliss of life. Swamiji leads his disciples to the path of peace and salvation, weaning them away from the worldly delusions.His name, his person and his preachings symbolise the most sacred love, the most sublime wisdom in which is the seed of "Bhagwad Tatva" (Essence of Eternity).

His Holiness Swamiji spent most of his early years in the Himalayas as a hermit. He belongs to the long and exalted tradition of sages born in our country who have been influencing and inspiring millions of people with their extraordinary personality and truly religious and noble living. He is not only an ever smiling, calm-and simple looking Sanyasi (Saint) but also the highest possibility of spirituality and a beacon of light born of long penance.

Swamiji has attracted a large number of intellectuals, teachers and social workers and has motivated them to work for the promotion of human rights, moral values, social harmony and social discipline. He has launched many projects to render service to the poor students and the elderly. His mission is a unique mission - to link spirituality with social responsibility. He has made people socially more responsible towards others, better citizens and happily tolerant.His spirituality is thus not only confined to the private efforts of an individual. He has been preparing a generation of spiritually awakened people who contribute positively to make the world a place where all can live together peacefully and where strife, tension, evil, inequality and intolerance does not exist. Thus Swamiji is a Spiritual Reformer and Spiritual Pacifist.

The saints of the Hindu Samaj (Society) and a leading organisation of millions of sadhus, the SRIPANCHDASNAAM JUNA AKHADA had designated him as PRIME SAINT in 1998 at the Haridwar Maha Kumbh. He has then been appointed as ACHARYA MAHAMANDLESHWAR i.e. the leader of all the saints of Sri panchdasham Juna Akhada. As the Acharya Mahamandleshwar of the Akhada, Swamiji has given guidance to many scholars, sadhus & seekers.
The Great Spiritual Master
Swami Avdheshanand Giri, an enlightened Acharya and master of Vedanta, aims at making a spiritually awakened human being. Swamiji is the head of millions of saints. More than a hundred thousand of saints have been initiated by the Acharya – the great master. He believes in the wholeness of spiritual renaissance. He guides for the purity of human soul and progress of human life. The Acharya creates values for the spiritual elevation of soul and spirituality, for him, means a return to one's authentic self devoid of ego. The seeker will receive what he seeks.
The World Reformer
Swamji is a great social-reformer. He works for a better world. He has launched various projects for rural development, like water harvesting, cultivation of barren land and supplying drinking water to the masses. Swamiji has been instrumental in establishing hospitals, schools and centers for physically disabled. He has initiated giant projects like Water Parliament Project. Swamiji has initiated 'Worldwide Work' to bring significant change in the present day world scenario.
The Great Philosopher
Swamiji is a Great Philosopher – a great thinker. Science is not the end for him. Science can only create a better world – bereft of poverty, illness and unfair disparities. He thinks beyond science. He creates a world of universal oneness - integrated with religion, science and art. He is the 'confluence' in which many streams converge and reflect an individual's quest for meaning.
Swamiji is a member of the World Council of Religious Leaders. He is honoured with D.Lit. for social upliftment and promotion of culture.
The Man Maker
Swamiji aims at creating men of wisdom, science, art and religion. He believes - a realised wise human being only can form a beautiful heavenly world. He leads his disciples to the path of peace and salvation, weaning them away from worldly delusions. He links spirituality with social responsibility and world peace. Swamiji has made people more responsible towards others to make the world a place where all can live together peacefully and where strife, tension, evil, inequality, intolerance do not exist. For him, universe is a complete family.
Echo of the Youth
Swamiji believes that the youth are the force of a nation. For building any nation, energy, character, power and work are important and youth have all these qualities. If they work together in the right direction, they can transform the image of the nation. Swamiji is engaged in preserving, promoting, interpreting the luminous and auspicious aspects of Indian tradition, dharma and culture among the youth. His thoughts have helped many a youth to lead a stress - free life – a great change in their life style.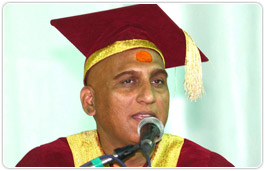 The Learned Writer
Dr. Swami Avdheshanand Giri is a learned writer. He has penned down most of his spiritual teachings. His discourses along with chanting of Vedic Mantras rendered soulfully with melody to meet the Divine are a deep spiritual experience. With understanding, spellbound oratory, love, humour and touching clarity, Swamiji guides his audience through the verses of the mystics and saints. He explores the secret of surrender to God – the ultimate aim of our being.

Millions of seekers / devotees are doing spiritual practice under the divine guidance of Swami Acharya Shri the world over. They are finding themselves more energetic and spiritually they are feeling enlightened. Swamiji & his discourses / lectures can be viewed / listened worldwide daily on various spiritual T.V. channels & TVU Player.